Power Cushion
The Power Cushion is an effective and economic alternating pressure cushion for day chair use that runs off its own independent pump unit. The gentle, dynamic pressure relief of the Power Cushion provides 24 hour care for the majority of vulnerable patients in hospitals, rehabilitation units and the home when used alongside an alternating mattress system.
With automatic adjustment to patient's weight, the Power Cushion is easy to use and optimises patient care whilst saving manual checking. Its 1-in-2 cell 12 minute cycle provides alternate inflation and deflation of the active cells and prevents pressure injury
A permanently inflated, horse-shoe shaped air cell beneath the thighs ensures that the ischial tuberosities are positioned over the double layer of alternating cells.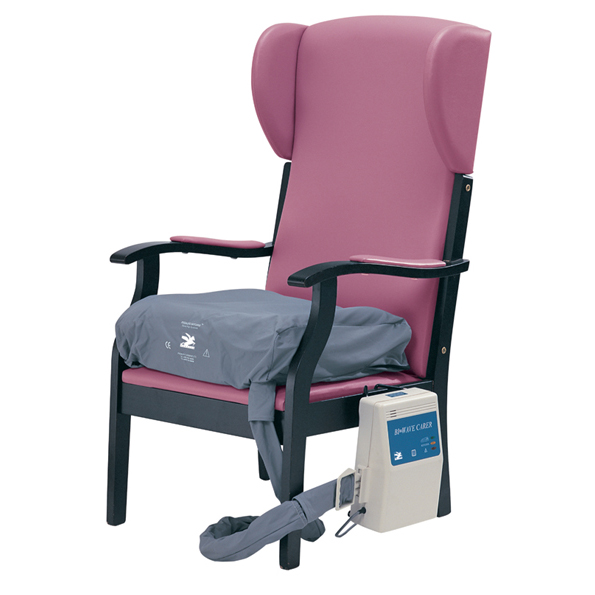 | | |
| --- | --- |
| Automatic adjustment | Automatically adjusts pressure settings in response to patient weight and position to optimise pressure relief and ensure that staff are not burdened with difficult product ser-up. |
| Independent pump unit | Allows Power Cushion to be utilised at most convenient place for patient ensuring that they do not have to be near the bed. |
| Firm internal base | Aids stability on day chair |
| Audible and visual alarms | A sophisticated set of audible and visual alarm functions provide enhanced patient safety and ensures peace of mind for nursing staff. |
| Dartex cover with welded seams | Soft, easy to clean, waterproof Dartex cover provides a complete barrier against viruses and blood, minimising infection control risks. |
| | |
| --- | --- |
| Risk Category | Very High Risk |
| Therapeutic Safe Working Load | 127kg |
| Cushion Dimensions | 450mm x 500mm x 125mm |
| Power Unit Dimensions | 130mm x 220mm x 300mm |
| Product Weight | Cushion: 2.2kg Power Unit: 2.5kg |
| Cycle Time | 12 minutes (1-in-2 cell cycle) |
| Supply Voltage | 230V, 50 Hz |
| Power Rating | Max – 100 Watts |
| Electrical Safety | Class II, Type B |